Profile

I only wished to become something beautiful
Through my music, through my silent devotion
Free Account
Created on 2011-12-21 22:08:07 (#1163173), last updated 2012-09-10 (262 weeks ago)
14 comments received, 41 comments posted
2 Journal Entries, 4 Tags, 2 Memories, 15 Icons

About

Mini Bio
Lenne is available for museboxing/memes whenever her voice strikes me. =)
Want to thread sometime? Drop us a line
in this post
or a PM if you prefer. I'm always up for making new friends for her (and me!).
Mun well over 18, muse just at.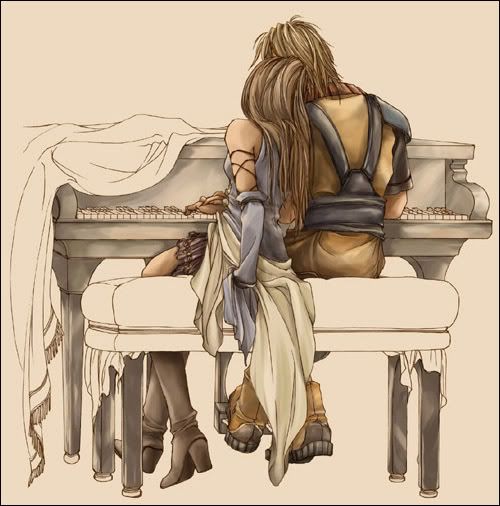 Player's Name: Amanda/Isonen
What Kingdom Hearts games have you played/watched/read? Played KHI and IIish, know general concepts, plots, etc. Spoilers are fine by me.
AIM: Aim: Lady Luck Lenne
Character AIM: Shivaismyhomegrl
LJ:

isonen


Character: Lenne
Series: Final Fantasy X-2
Version: Post-death/Mid-game-ish? DX
Age: 19
Gender: Female
Sexuality: Straight, but she wouldn't be one to label herself



Appearance: Lenne is beautiful. If appropriate (and sometimes when very inappropriate) there is a genuine smile on her face, no matter what is going on around her. She is energy and joy and life manifested.

She is blessed with a lithe dancer's build, undoubtedly, enviably feminine. Her oval face is lovely, chocolate brown eyes framed in dark lashes, and her dark brown hair board-straight and cascading to her mid-back, a few strands are adorned with strings of beads around her face.

She is best recognized in her trademark Songstress costume: a grayish purple halter with white gauzy ruffles along the v-neck, and down the side almost to her knee, and a black lace mini-skirt. She favors brown knee-high boots, no doubt of some exotic leather, but they're comfortable and she can dance for hours in them.



Personality: Lenne is optimistic, bordering on naivety in all appearances, but she knows more about how the world works than most her age should. She keeps an open mind, completely accepting of those she meets, and her trust is theirs to lose. She has a constant sense of humour, often dry and sarcastic, and the quickest way to her heart may well be through friendly banter. She can be a bit of a flirt, but it's hardly an invitation. Her heart is very much spoken for.

She can be described as an empath, to a point. Lenne very easily picks up on others' emotions, and tends to draw them into herself, taking their problems personally. She just wants to help, but she has a tendency to take so much on herself while never releasing any of her own anxieties and issues. She doesn't want to be a burden. Since she became a celebrity, a songstress AND a summoner, so many people looked up to her. For their sake, she refuses to show weakness. She keeps a good face for them, and most of the time, it's the truth.

However, when she crashes, she burns. It takes a long time, and a lot of build up, but her unhealthy means of bottling every "negative" emotion up inside wear her down after a while. It's not that she believes no one cares, it truly is that she doesn't want to drag anyone down after her entire existence has become to build them up. She is drawn to people who would seem to need her calm, rational hand, or her counseling; a subconscious desire to keep them safe and bring joy to everyone in need of it.



Abilities/Weaponry: Excellent singing voice, professional stage presence, and the ability to draw those in the audience into her feelings, on stage and off. In Zanarkand she was a summoner, capable of calling forth fierce and myriad Aeons to her side to fight. She possesses some minor magical abilities, cure and cura; while she dabbled in black magic, she is not proficient, knowing only the basic spells with confidence, but the higher ranks almost untouched. Her weaponry is merely her summoner's staff, though anyone can wield a blunt object…

Being a summoner, Lenne possesses the ability to summon many aeons, but she has worked with some more than others, and their abilities will vary based on that. Though she can summon five aeons proficiently, she prefers Shiva (Ice element) and Ixion (Thunder element).


Shiva: Heavenly Strike – causes non-elemental damage and delays enemy
Diamond Dust - freezes all enemies before shattering and causing considerable damage.
Blizzard, Blizzara, Blizzaga


Ixion: Aerospark - Inflicts Non-elemental damage and negates effects such as Protect, Reflect, and Haste
Thor's Hammer
Thunder, Thundara, Thundaga


In addition to being a summoner, Lenne is also a fully capable songstress. She is proficient in myriad songs and dances that benefit her allies and cause much difficulty for her foes. Her portfolio includes:


Darkness Dance --- Blinds enemies whilst dancing
Samba of Silence --- Silences Foes whilst dancing
Magical Masque --- Magic attacks don't hurt party
Sleepy Shuffle --- Enemy Sleeps whilst dancing
Slow Dance --- Slows enemy whilst dancing
Break Dance --- Stops enemy whilst dancing
Jitterbug --- Hastes party whilst dancing
Battle Cry --- Raises Party's Strength
Cantus Firmus --- Raises Party's Defense
Esoteric Melody --- Raises Party's Magic
Disenchant --- Raises Party's Magic Defense
Perfect Pitch --- Raises Party's Accuracy
Matador's Song --- Raises Party's evasion




Weaknesses: While toned and physically fit, her strength is not in her physical muscle, but her ability to call forth powerful Aeons to aid her. She is not without resource if push came to shove, and is not below hitting an attacker with whatever she has on hand, or the lesser elemental spells. But if cornered by a moderately skilled fighter, she would be easily outmatched.

Mentally, she is not as strong as she would have everyone believe. While she truly wants to save, well, everyone, she refuses to acknowledge her own problems and anxieties, instead bottling them and suppressing them, until one fateful moment releases everything, and she breaks down entirely. This can emotionally incapacitate her for days, even weeks, and if left alone to continue dealing with it, she may take even longer to recover.

Depression haunts her, but she stifles it; however, if one were to discover any of her myriad personal insecurities, it would not take long to find a way to break her.

She would do anything for the ones she loves, even die for them, no matter their faults or their wrongs leading to their need. If her friend was in danger, she would risk anything. This is courage, definitely, but she could be manipulated into getting in way over her head if she perceived a threat. She places little value in her own life unless it is being used to help others.



History: Her home was the immense city of Zanarkand, technologically advanced with the aid of machine, relying on machina, magics and other unknown means for its power and advancement. Born and raised there, she was a very famous Songstress, a performer with a trained voice, able to draw others into the feelings of the songs she performed. She was also a summoner in the armed forces, of sorts, of the city of Zanarkand. She took both professions very seriously, and was highly looked up to and loved by the people who knew her and looked to her for guidance. As a songstress she was of the most famous, and rightly so, for her talent was natural, and her heart open on stage alone, drawing all who heard her voice into her presence. As a summoner, she was respected and experienced, despite her young age, and was completely devoted to her responsibilities, fully knowing it could mean her death, and prepared for it.

When a rival city and civilization in Bevelle, another city built on machine (machina as it was called), declared war, Lenne was called into battle, willingly, as it was her sworn duty. Her lover, Shuyin, a famous athlete, was impulsive and her counterpart in personality. Knowing that his love would surely die if she went in to battle, he sought out to hijack Bevelle's most secret and dangerous weapon, Vegnagun, to destroy everything in its path, Bevelle and Zanarkand, and end the battle. But Lenne, in her wisdom, sought after him and was able to stop him before he completed taking control of the machine. This led to their inevitable doom, tragically. While trying to escape the very heart of Bevelle, they were gunned down by the soldiers before the monstrous weapon, given mere seconds to look to each other, Shuyin in regret and anger, and Lenne in calm acceptance.

After that is muchly a blur. Fleeting memories of hundreds of years of… death? Part of her soul still living, trapped and traveling, all the while separated as far as can be from the man she loved, the only person who truly knew her. There is no resting in peace just yet.



RP journal for

paixaorpg
Profile Layout by

isonen, brushes by Aethereality, art unknown, Paixao!Wiki Page
All art and Cosplay pictures belong to their respective artists, et al. Pictures found via Google and DeviantArt. If you would prefer I not use your image(s) by all means let me know, and I will remove it immediately.


People
[View Entries]
beau_sest_leve
,
bratinahat
,
chosencasanova
,
cowardly_hero
,
finalrequiem
,
firagas
,
fonflower
,
fonichymns
,
fontechnology
,
gumdroppizza
,
halfdarkened
,
heartswillblend
,
herholyname
,
inthistyle
,
jeopardyfriendly
,
jewelsummoning
,
keyoftheearth
,
keyofthesky
,
kingdomkeyd
,
lanterndreaming
,
littledevilscarlet
,
love_freak
,
megaflare
,
napoleonicrat
,
ninthmelody
,
nonomoribird
,
ofmany
,
onetrueking
,
powercorrupts
,
pullstringcowboy
,
reaperofnaught
,
redrepels
,
ridelikethewind
,
scentacrosstime
,
sevenyearssavior
,
sinning
,
snapkaboom
,
somethingblue
,
sovereignfist
,
storyofadream
,
stoutteapot
,
streetratprince
,
talebeyonddeath
,
theheartofdarkness
,
unyeildingcourage
beau_sest_leve
,
bratinahat
,
chosencasanova
,
cowardly_hero
,
finalrequiem
,
firagas
,
fonflower
,
fonichymns
,
fontechnology
,
gumdroppizza
,
halfdarkened
,
heartswillblend
,
herholyname
,
inthistyle
,
jeopardyfriendly
,
jewelsummoning
,
keyoftheearth
,
keyofthesky
,
kingdomkeyd
,
littledevilscarlet
,
love_freak
,
megaflare
,
napoleonicrat
,
ninthmelody
,
nonomoribird
,
ofmany
,
onetrueking
,
powercorrupts
,
pullstringcowboy
,
reaperofnaught
,
redrepels
,
ridelikethewind
,
scentacrosstime
,
sevenyearssavior
,
sinning
,
snapkaboom
,
somethingblue
,
sovereignfist
,
storyofadream
,
stoutteapot
,
streetratprince
,
talebeyonddeath
,
theheartofdarkness
,
unyeildingcourage

Communities
[View entries]

Member Of (12):
bakerstreet
,
brotherly_love
,
dear_mun
,
memebells
,
memelicious
,
paixaocrack
,
paixaomb
,
paixaoooc
,
paixaorpg
,
paradoxwalking
,
thehouseofmouse
,
thewolfrun

Subscriptions (9):

Administrator Of (0)

Feeds
[View Entries]

Subscriptions (0)

Linking
To link to this user, copy this code:
On Dreamwidth:
Elsewhere: